About Us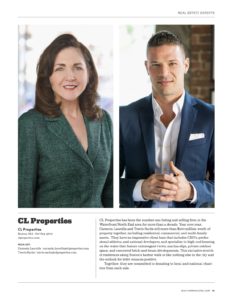 Founded in 2010 by Carmela Laurella, CL Properties is a leading luxury brokerage located on Boston's Waterfront. CL Properties is a boutique firm that is consistently ranked among the top agencies in Boston. As read in the Boston Globe, Carmela Laurella specializes in selling property on what she calls Boston's "Gold Coast," a quarter-mile of high-end housing that features extravagant views, private boat docks, and spectacular condominium residences and townhouses. Carmela Laurella, ranked in the top 1% of realtors in Boston, has sold over $1 Billion in real estate and continues to accomplish record-breaking statistics.
Carmela Laurella and Travis Sachs are a dedicated team of professionals with diverse talents and expertise. This highly sought-after team is frequently asked to represent real estate transactions extending to all areas in and around the city of Boston, New York and Florida. They focus on providing extraordinary results in residential, commercial and multi-family markets. Clients benefit from experience and market expertise, as well as relationships with top lenders, attorneys and contracting professionals in Boston.
Their extraordinary advertising and renowned marketing techniques – along with an undefeated sales performance – have become legendary.