Follow this link for WGBH's article, or read on below! — Condos of the One Percent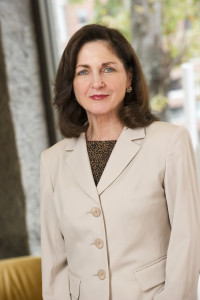 In Boston's booming real-estate market, it's become a cliché: if there's a condominium for sale, it's billed as "LUXURY."
At the extreme high end of the market, however, there are a select few properties that definitely fit the bill.
Case in point: the 16K unit in the Residences at the InterContinental, which sit just off the Rose Kennedy Greenway, next to the hotel of the same name. Technically, the 16K is a three-bedroom condo. But that mundane phrase doesn't come close to doing the property justice; it's like calling a Bentley "a car," or Stephen Curry "a basketball player."
When I got a recent tour of 16K from realtor Carmela Laurella, the president of CL Properties, the first thing I noticed was the view—a stunning sweep of the Seaport and beyond, glimpsed through a bank of floor-to-ceiling windows.
"You're looking out at Fort Point Channel," Laurella told me as I stood, slack-jawed. "You can see the Blue Hills in the background. You can see some sailboats sailing in the Boston harbor over there."
Also stunning: the 16K's size. At nearly 3400 square feet, all on one floor, it's a three-bedroom condo you can actually get lost in, with a master closet bigger than some apartments.
"It's 230 feet," Laurella told me. "Certainly as large as some of the studios they're selling."
The 16K also boasts a bevy of fancy amenities, including oak floors, textured walls shaped like waves, and a high-tech system that controls everything by iPhone. And life in the Residences at the InterContinental includes some additional perks: a doorman; a concierge; a pool, spa and gym.
But all that luxury doesn't come cheap. The asking price is $6,875,000.
In Boston's real-estate stratosphere, that number is actually fairly representative. Right now, there are roughly half a dozen Boston condos selling for between $6 and $8 million dollars. If you can stretch to, say, $8 or $10 million, your options increase.
All of which raises an obvious question: who, exactly, is buying these things?
Jeff Immelt, for starters. The GE CEO is reportedly under contract to purchase a swanky unit on Commonwealth Avenue, near the Public Garden, that's listed for just under $8 million.
Of course, captains of industry like Immelt are few and far between. Elad Bushari, a Boston real-estate broker, says he sees another group driving demand: well-heeled suburbanites looking for a second act.
"We definitely see a lot of the empty nesters," Bushari says. "They're coming from the big houses. Their kids are already [done with] college. They don't need to heat their 5000-square-foot homes; they don't need to maintain them. They don't have any mortgages, and they can pay cash!"
"For them, a condo fee of $2000 a month is worth it for the lifestyle they're enjoying," Bushari adds. "It's a lifestyle choice. They're enjoying the city. They feel young and energetic."
Also purchasing at the top of the market, Bushari says, are affluent foreign buyers, many of whom hail from China, Brazil, Mexico and Russia.
Frequently, Bushari says, members of this group buy an attractive property where their children can live while attending school in Boston—then sell it for a tidy profit after they graduate.
"The wealthy parents decide to have control—purchase for their kids, own it, and instead of paying $300,000 in rent for the next three years, to actually make $300,000 profit in capital gains," he explains. "It's a very easy decision for them to make, if they can park the $2 or $2.5 million."
All this demand is driving a luxury-housing boom that's epitomized, in mid-2016, by the new Millennium Tower in Downtown Crossing—or, as they're calling it these days, "DTX."
When it opens this summer, Millennium Tower will be the third-highest building in Boston. And its 442 units—ranging from $1 million, for one-bedrooms near the base, to a grand penthouse listed at $37.5 million—are already on the verge of selling out.
Recently, I was given the building's sales pitch by Richard Baumert, a Millennium partner. Over the course of a half an hour, he touted (among other things) the exemplary service residents will receive; a lavish members-only club; and an in-house lecture series (think TED talks, but more exclusive).
Afterward, Baumert led me into the building and escorted me to a 3-bedroom, $7-million-plus unit on the 51st floor.
Despite ongoing construction, the appeal was undeniable. Boston Common and the State House were directly underfoot. To the west, the Charles River and the Back Bay stretched away to glorious effect
"And when it's clear, and it's 7:00, 7:30 at night, a sunset," Baumert pointed out. "A beautiful sunset."
Of course, at around 3200 square feet, the Millennium unit was a tad—how to put it?—cozier than unit 16K at the Interncontinental.
If I had the resources, it would be an agonizing decision.